The Daily Walk with Miracles
Subscribe to The Daily Walk's RSS Feed!
Wikipedia on Who Are You (it) is the eighth studio album
by the English rock band The Who, released on 18 August 1978
by Polydor Records in the United Kingdom and MCA Records in the United States.
The album received mixed reviews from critics, though
it was a commercial success, peaking at number 2 on the US charts.
September 18, 2017


The Voice of Freedom in Ohio!




Justice is Coming!
The Daily Walk with Miracles


Taking the Message of
Christian Truth
& Faith to the World


*

New Age

*

Truthful

*

Christian

*

Nonpartisan

*

Independent

*


Support the NEW CIA!


(Keep on Rockin' in the Free World!)
The Who – Who Are You (1978)
May Our God Bring Peace
to the Korean Peninsula and Venezuela
[(May God Have Mercy on Us All)]
The Daily Walk with Miracles, September 18, 2017, by Paul Evans, video is Hard Rock: The Who – Who Are You (1978), YouTube — 42:42. I'm still "single and looking ladies…. Why not send an email to me, Paul, at paul.miracles57@gmail.com or possibly visit my dating profile on OKCupid, a great, large, and totally free dating site I know you'd love.
Economic liberalism such as I have (in large measure) espoused is NOT communism. Pope Francis stated that "helping the poor isn't Communism, it's the Gospel." One generalized definition of "liberal" is "generous." I'm personally an economic liberal and the rest pretty darned conservative in some regards, and also I fully DO understand the absolute necessity for economic austerity, as President Trump is trying to institute, without much cooperation from congress, and pray that you do understand the need for austerity, too. Pretty soon with the global economic collapse looming SOON you may find out (I am for a caring, sharing society, but not traditional Communism.) Rather, I feel we MUST have a slightly progressive fair and flat tax with a full revision of the tax code. [Personally I'd nationalize the banks, too, but I realize that is fully unlikely]. I am a spiritual, charismatic Christian. I know in my heart that the Bible and the early Christian church support a sharing society, with such phrases from Acts such as "and they held their goods in common." For a long time I went to a church which taught the study of spiritualism as understood by various world religions (and NOT witchcraft, although there were witches there). "Judge not, lest ye be judged" is pretty straightforward, ye so-called Christians. If you're looking for somewhere to "find yourself," I STILL think the Unitarian-Universalists (www.uua.org) are not a bad place to start your journey. I personally am United Church of Christ, and MY church walks the walk. (Plus, I attend a great little Disciples of Christ church locally where I live northwest of Wooster, Ohio.) Are we CLEAR on that now, people? Featured photograph is from The Who's 2012 tour.
Ladies, I am a KIND, nice guy and I am open to just about any kind of relationship. I am NOT demanding and am an "easy lover." I am not so good at straight sex, I am NOT about sex per se I am about sharing love… I am a great kisser and am really talented in "other" ways… I don't want cybersex I want to meet you… come to know and love and cherish you in every way, come live with you and make you mine forever…(OK, and I'm poor and I smoke). If you want me, EMAIL me paul.miracles57@gmail.com — with love and hope, Paul
See Playlist: The Who – Love reign over me, The Daily Walk with Miracles, June 5, 2017, by Paul Evans. If you are really into The Who, as I am,
please watch Amazing Journey The Story of the (Who), YouTube Music Documentary — 1:58:46.
Visit

Compassion International


* Sponsor a child today *
$38 a month takes care of a vulnerable child!
See Wikipedia on Who Are You:
Who Are You is the eighth studio album by the English rock band The Who, released on 18 August 1978 by Polydor Records in the United Kingdom and MCA Records in the United States. The album received mixed reviews from critics, though it was a commercial success, peaking at number 2 on the US charts and number 6 on the UK charts.

Who Are You was The Who's last album to feature Keith Moon as their drummer; Moon died three weeks following the album's release. The paradoxical nature of the text "Not To Be Taken Away" that was written on Moon's chair on the album cover was noted by some critics. Moon's death brought concerns that the band would have to fold; he was ultimately replaced by Kenney Jones.
Watch The Who: Quadrophrenia (1973), YouTube — 1:21:37.
Watch Playlist: The Who – Love reign over me, The Daily Walk with Miracles, November 10, 2016, by Paul Evans, from which:
Wikipedia says of The Who:
The Who are an English rock band that formed in 1964. Their classic line-up consisted of lead singer Roger Daltrey, guitarist and singer Pete Townshend, bass guitarist John Entwistle, and drummer Keith Moon. They are considered one of the most influential rock bands of the 20th century, selling over 100 million records worldwide and holding a reputation for their live shows and studio work.

The Who developed from an earlier group, the Detours, and established themselves as part of the pop art and mod movements, featuring auto-destructive art by destroying guitars and drums on stage. Their first single as the Who, "I Can't Explain", reached the UK top ten, followed by a string of singles including "My Generation", "Substitute" and "Happy Jack". In 1967, they performed at the Monterey Pop Festival and released the US top ten single "I Can See for Miles", while touring extensively. The group's fourth album, 1969's rock opera Tommy, included the single "Pinball Wizard" and was a critical and commercial success. Live appearances at Woodstock and the Isle of Wight Festival, along with the live album Live at Leeds (here on The Daily Walk with Miracles), cemented their reputation as a respected rock act. With their success came increased pressure on lead songwriter and visionary Townshend, and the follow-up to Tommy, Lifehouse, was abandoned. Songs from the project made up 1971's Who's Next, which included the hit "Won't Get Fooled Again". The group released the album Quadrophenia in 1973 as a celebration of their mod roots, and oversaw the film adaptation of Tommy in 1975. They continued to tour to large audiences before semi-retiring from live performances at the end of 1976. The release of Who Are You in 1978 was overshadowed by the death of Moon shortly after.
"Moon the Loon" and his death in 1978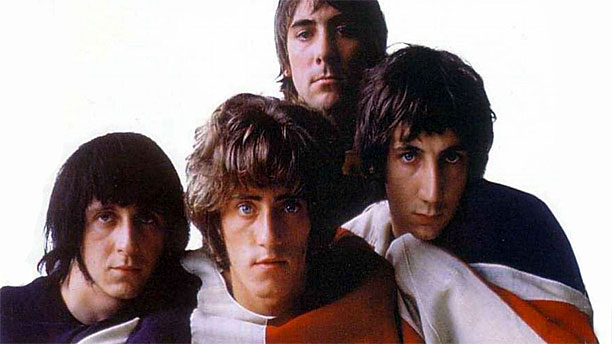 Paul Evans:There's a story about Keith Moon and his death I want to relate to you. The Who always had rather violent, self-destructive tendencies and also performances. But Moon's absolutely destructive and nutty behavior used to drive the more sedate Pete Townsend wild. Don't quite remember The Who or just how madly violent they could get? Check out Flashback: Watch the Who Blow Up 'Smothers Brothers' in Primetime, Rolling Stone. That time while in live performance, Moon hid explosives in his drum set. He was always the most madcap of The Who, perhaps a bit "mental." He "was fascinated by blowing up toilets with cherry bombs or dynamite, and by destroying television sets." Wikipedia put it politely that Moon was, "noted for his unique style and his eccentric, often self-destructive behavior." The Wikipedia article on Moon's life mentions that he was an alcoholic, particularly with brandy and champagne," (and that his nickname was "Moon the loon.") However, Rolling Stone mentions that a reader's poll lists Moon as the second best drummer of all time, and I guess that if you're the very best, you can get away with a lot — for a while.
The Who would have several comebacks after Keith Moon died on September 7, 1978, but never again regain the special, classic rock perfection of some of their early albums. The album cover for Who Are You, courtesy of Amazon.com, which by the way is a fantastic album you should all get if you don't have, features Keith sitting in a backwards-oriented director's chair with the words "Not to be taken away." The album was released August 18, 1978, just 20 days before Keith Moon died. The "not to be taken away" photo on that album cover was just one of those subtle (or not so subtle) things God seems to arrange in the world, but in the press it gave rise to a number of conspiracy theories about Moon's death. Worldcat.org mentions something about a "Buddy Holly curse," and although this idea is a bit far-fetched, there do seem to be a number of artists who had problems or died through some relation to Buddy Holly. Not only Keith Moon, but Ricky Nelson and Del Shannon suffered deaths somehow related to the "big bopper."
The night Keith Moon died, he had attended the London premiere of The Buddy Holly Story with Paul and Linda McCartney. He died officially from an "overdose of Heminevrin, a drug intended to treat or prevent symptoms of alcohol withdrawal." — (Wikipedia) At the time, Retro Kimmer relates that the death was not intentional, really just a terrible stupidity. He died "after a night of partying — and to be fair, a lifetime of testing his own limits. Ironically, his death was caused from an overdose of pills that were intended to combat his ongoing alcoholism. The medication was primarily a sedative, only a handful of which would have caused death." Moon took a handful the night before he died, September 6, and then a few more the next morning, and was dead within a few hours. "Police reports indicate that he took nearly a third of his 100 pill prescription." Townsend mentions that this behavior, "taking handfuls of pills, was not terribly unusual for Moon," he just "did it" with the wrong pills this time. This was really such a sad fate.
The Who Continues
And Summary of their Huge Contribution
A good news web site about The Who which carries current information on them, such as touring dates is The Who.com, news archive. It has an article from September 22 of this year titled "new line-up, new mixes, new era." If only they could be half as good as the old band! Wikipedia speaks of their musical journey after Moon's death: "Kenney Jones replaced Moon and the group resumed activity, releasing a film adaptation of Quadrophenia and the retrospective documentary The Kids Are Alright. After Townshend became weary of touring, the group split in 1982. The Who occasionally re-formed for live appearances such as Live Aid in 1985, a 25th anniversary tour in 1989 and a tour of Quadrophenia in 1996–97. They resumed regular touring in 1999, with drummer Zak Starkey. After Entwistle's death in 2002, plans for a new album were delayed. Townshend and Daltrey continued as the Who, releasing Endless Wire in 2006, and continued to play live regularly."
Wikipedia sums up just how great a rock band The Who were: "The Who's major contributions to rock music include the development of the Marshall stack, large PA systems, use of the synthesizer, Entwistle and Moon's lead playing styles, Townshend's feedback and power chord guitar technique, and the development of the rock opera. They are cited as an influence by hard rock, punk rock and mod bands, and their songs still receive regular exposure."
You might wish to read a biography of The Who at Rolling Stone, who mentions that "along with the Beatles and the Rolling Stones, The Who complete the holy trinity of British rock." If you'd like, please feel invited to visit their Facebook page. I also want to mention that in my opinion the very best album by The Who is Who's Next (Amazon.com purchase page). Good people, "Peace, Love and Rock!"
About The Who's Quadrophrenia
About The Who and Quadrophrenia from Wikipedia:
Quadrophrenia is the sixth studio album by the English rock band The Who, released on 26 October 1973 by Track Records. It is a double album and the group's second rock opera. The story follows a young mod named Jimmy and his search for self-worth and importance, set in London and Brighton in 1965. It is the only Who album to be entirely composed by group leader Pete Townshend.

The group started work on the album in 1972, trying to follow up Tommy and Who's Next, which had both achieved substantial critical and commercial success. Recording was delayed while bassist John Entwistle and singer Roger Daltrey recorded solo albums and drummer Keith Moon worked on films.
The Who – Who Are You (1978)
Please Visit The Official King James Bible Online
(1611 King James Authorized Version)
P

roverbs 13:7

– There is that maketh himself rich, yet hath nothing:
there is that maketh himself poor, yet hath great riches.
(King James version)
Get Help with Your Addiction
Try these confidential services:


Recovery.org


OR


SAMSA helpline
Do You Want Somebody to Talk To?
Please email me, Paul Evans at paul.miracles57@gmail.com. We can at least offer
each other a little kindness and compassion, right?
Like What You're Reading?


Please Share The Daily Walk with Miracles




(just use the handy sharing buttons below each article)